I get it, the new August–December 2020 Mini Catalogue is new and shiny and super amazing and I love it.
But, the catalogues aren't a case of "out with the old, in with the new", they complement each other. They work together with coordinating features, and stamp sets that you can use no matter the season. And that's one thing that makes all of our catalogues wonderful—they work together to make a whole!
Did you know that the Tag Buffet kit from the mini catalogue isn't just for Christmas cards, but can also be used with the Note Cards and Envelopes from the annual catalogue to create the perfect mesh of beauty? And did you know that the Best Plaid Builder Dies from the annual catalogue would work wonders with a stamp set like Wrapped in Christmas from the mini catalogue? Or the mini catalogue's Blue Adhesive Backed Gems would bring just enough pizzazz to the Whale of a Time Suite in the annual catalogue?
So no matter what project you're making and no matter the time of year, the annual catalogue and the mini catalogue work so well together, it's like they're made for each other. And in some ways, they are!
Getting Creative with the All You Can Tag Buffet
Woah, it's nearly September and that time of year to make sure I have my tags and cards ready for *that* time of year before time runs away from me! The Tag Buffet Stamp set is perfect and you can certainly get creative. Here are three cards to get your started and what you need to create your own masterpieces.
Tag Buffet Stamp Set
The same ink colours (Bermuda Bay, Coastal Cabana, Flirty Flamingo, Poppy Parade, Tuxedo Black Memento Ink)
Wonder of the Season Ribbon Combo Pack (gold cord)
Poppy Parade card base (3-1/2" x 5"; 8.9 x 12.7 cm)
Coastal Cabana Cardstock (3-1/2" x 1"; 8.9 x 2.5 cm)
Shimmery White Cardstock (3" x 3"; 7.6 x 7.6 cm)
Trimming the Town Designer Series Paper (2-1/2" x 4"; 6.4 x 10.2 cm)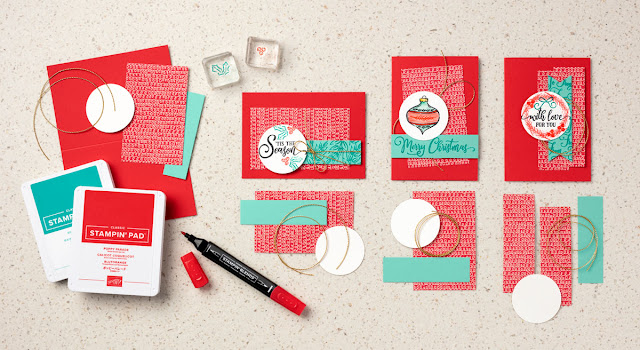 Ornament Card
Stamp, colour, layer, adhere. It's simple and quick to make.
'Tis the Season Card
No trimming necessary. Just switch the orientation of the card, stamp different images, and tie a bow - tadah!
With Love Card
Trim the Designer Series Paper into two 1-1/4" x 4" (3.2 x 10.2 cm) pieces and cut notches into the Coastal Cabana Cardstock.
Enjoy, and if you get this set/or have it, do share your creation(s).

---
I would love to be your Stampin' Up! Demonstrator
When placing an order for £150 or more, I want you to enjoy all of the Stampin' Rewards you have earned. If your order is less than £150, please use the customer online code (over on the right in the sidebar) when prompted.
Save 10%
on coordinating product bundles!