How to add the host code to your Stampin' Up! orders

Visit my Stampin' Up! Online Shop.
My name should be at the top left of your shopping page.

Create an account if you haven't already got one.
Go shopping!
During your visit, you are able to enter the code at any point. Simply, go to the 'Shopping Basket' screen and enter the code in the Host Code box. Continue shopping or checkout if you are done.

A minimum order of £45 (before postage) is needed to qualify for a gift*.
The code changes each month
so please check the code before you order.
About your gift
To qualify, a minimum order of £45 (before delivery) is required to qualify.
My gift to you is despatched separately to your order by me.
Gifts are sent after the previous month has ended, please allow 7-28 days for it to arrive.

If my order is over £150, should I use the code?
No, please don't! If your order is £150 or more, you qualify to receive your own Stampin' Rewards, see the chart below for the extra £ you have to spend.
You will still get a gift from me!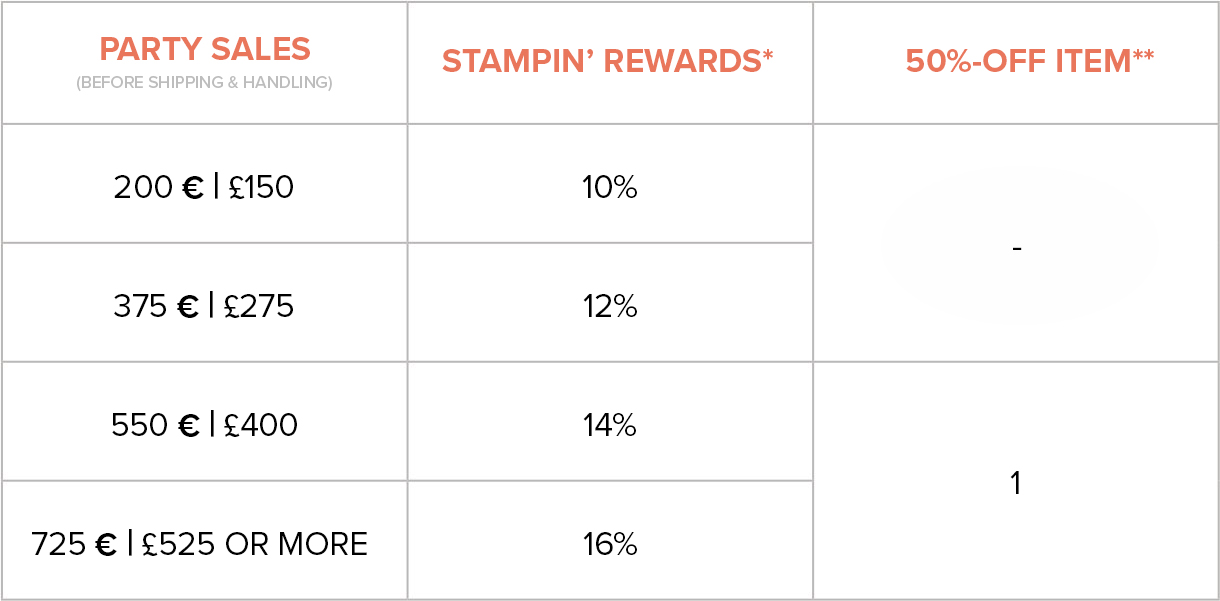 Guest Checkout / No Contact
If you opt to checkout as a guest or choose to receive no contact from me, this means that I cannot included you as your contact details are hidden from me.
Remember:
If you don't allow Demo Contact I cannot get in touch with you.

Is your order is over £150, don't enter the host code, I want you to spend the rewards as you have earned them.

If you don't enter the Monthly Host Code or your order is less than £45 I won't be able to include you in the share of the host rewards.
You can only enter the Monthly Host Code online – it doesn't apply if the order is placed directly through me or at any class. This offer cannot be used in conjunction with any class refunds or giveaways.